Asitane Restaurant Winter Menu 2014


Ottoman cuisine is a buried treasure, the heritage of a great empire which lasted for 700 years... A synthesis of Central Asian, Anatolian, Middle Eastern and Balkan flavours. Unfortunately, very few recipes from this rich cuisine have survived due to a tradition which demanded that cooks' guilds keep their recipesand cooking techniques secret.

Here at Asitane, we have made it our mission to reintroduce the authentic Ottoman cooking to the world. Since 1991, dedicated staff have hunted down lost tastes with academic zeal. In order to try and recreate authentic Ottoman Cuisine, we have consulted a variety of sources, including the budget ledgers of the three main palace kitchens - Topkapı, Edirne and Dolmabahçe - and the memoirs of foreign diplomats and visitors. It is with great pleasure that we offer you long-forgotten dishes which we have revived based on documents that lay in palace archives for 500 years. The dishes in the menu are prepared from these historic resources using original ingredients and cooking methods.

At Asitane, we strive to provide our guests with an authentic palate experience that does justice to the splendors of the Imperial kitchens. We are delighted to welcome you to our restaurant, where our welcoming and experienced staff will treat you to an unforgettable feast.

Enjoy your meal!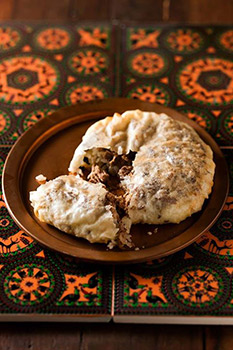 Soups

1. Almond Soup (1539)
A light almond broth flavoured with grated nutmeg and pomegranate seeds
2. "Terine" Soup with Chestnuts (1469)
Winter soup with chestnuts, dried yogurt and mint
3. Liver Soup (1764)
4. Yogurt Soup with Croutons (XV. c.)
Cold Appetizers
5. Asitane Treats

Ottoman Hums (1469)
Crushed chickpeas lightly pureed with currants, pine nuts, and cinnamon
"Lor" Cheese Blend (1898)
Fresh cottage cheese mixed with scallions, parsley, green peppers, tomatoes and seasoned with rosemary and paprika
Fava
Creamed broad beans, seasoned with dill and served with a drizzle of olive oil

Pounded Cucumber Salad (1844)
With onions and pictachios
6. Gerdaniyye
Lamb chuck slowly braised with aromatic vegetables and herbs, blended
with lamb brains, served with sour black plum extract
7. Cabbage Rolls with Chestnuts (1844)
Cabbage leaves rolled with a blend of rice, onions, spices, chestnutscooked in olive oil
8. Shrimp "Pilaki'' (XV. c.)
Shrimp with garlic, carrots, scallions cooked with olive oil and vinegar
Salads
9. Cauliflower Salad with Tahini (1898)
Blanched cauliflower salad with mustard seeds and tahini dressing
10. Romaine Lettuce Salad with "Dilber" Dressing (1864)

11. Rocket Salad with ''Tulum'' Cheese
12. Shepherd's Salad 14
Diced tomatoes, cucumbers, peppers, scallions, crushed walnuts and herbswith pomegranate dressing
Warm Appetizers

13. Grilled "Circassian" Cheese with Oyster Mushrooms
14. Liver "Köfte" (1695)
Fried liver patties flavoured with cinnamon and cloves served with red onionssauteed in pomegranate molasses
15. "Fatty Apron" Kebab (1764)
Minced lamb and beef blended with coriander seeds, cumin, pine nuts andmint,
wrapped in caulfat and roasted in the oven
16. Trotter Stew (1471)
Stewed lamb's trotter with vinegar and garlic, served on crispy rye bread
17. Fish Patties
Fried fish patties flavoured with pine nuts, currants and spices
18. Stuffed Spleen (1924)
Lamb spleen stuffed with dill, pine nuts, spring onions and ricebraised and deep fried on order
Pastry
19. "Hassa Bourek"
Traditional Turkish "yufka" pastry layered and rolled with tulum cheeseand a blend of green olives, walnuts, yogurt, spring onions and tarragon
20. Spinach "Piruhi" (1844)
Home made pasta parcels, stuffed with spinach, onions, and crumbly 'tulum' cheese
21. Chicken Bourek (XV. c.)
Deep fried dough parcels stuffed with chicken, eggs, spring onions and fresh herbs
22. Bulgur Pilaf with Chestnuts (1469)
Bulgur pilaf cooked with chestnuts, currants and spices
23. Couscous (1910)
Traditional "Maraş" couscous, butter sauteed with walnuts, red pepper flakes and parsley

24. "Pilaf" with Mulberries (1650)
Main Courses
25. Veal "Külbastı" (1844)
Grilled fillet of beef seasoned with tarragon and black pepper,served with green pilaf
26. "Mahmudiyye" (1539)
Chicken stewed with honey, apricots, 'Rezaki' raisins and almonds,flavoured with honey, cinnamon and cloves
27. Stuffed Quince (1539)
Baked quince stuffed with a blend of minced lamb and beef, rice,aromatic herbs, pine nuts, currants and flavoured with grape molasses
28. "Mutanjene" (1539)
Braised leg of lamb stewed with apricots, 'Rezaki' raisins and almonds
29. "Kırma" Chicken Kebab (1764)
Grilled chicken fillets served on vinegar sauteed onionsand pickled red cabbage
30. Goose Kebab (1539)
Slowly roasted "Çankırı" goose served on a bed of almond pilaf in crunchy Turkish "Yufka"
31. Savoury Meat Patties (1764)
Grilled minced lamb and veal patties flavoured with aniseed,cinnamon, gum mastic and pistachios,
wrapped in "Yufka"

32. Lamb Shank with Spinach "Marmarina" (1844)
Braised lamb shank served on creamy spinach in a crispy pastry bowl

33. Borani-i Hassa (XV. c.) (Vegetarian)
Spinach cooked with onions, eggs and rice, dressed with garlic yogurt
34. "Tuffahiye" Stuffed Apple (XV. c.) (Vegetarian)
Baked apple stuffed with a blend of cracked wheat, celery and onions.Served with shallots cooked in
ginger apple sauce
Fish Dishes
35. Mackarel "Dolma" (1844)
Breaded and fried whole mackarel stuffed with currants, pine nuts, and herbs
36. Sea Bass "Biryan" (XV. c.)
Roasted whole sea bass stuffed with walnuts and spices, served with a saffronand rose water dressing
Desserts
37. Pounded Almond "Halva" (1539)

38. "Helatiye"
Milk pudding infused with gum mastic, served with almonds, pistachios, and seasonal fruits in a light rose water syrup
39. "Sembuse" (1650)
Walnut and almond dessert with musk
40. " Südlü Zerde'' (1539)
Milk pudding flavoured with saffron and honey

41. Honey and Rose Water "Halva" (1650)

Homemade Sherbets and Syrups
42. Tamarind, Cinnamon, Hibiscus